Our Qualifications
Qualifications
Our extensive professional experience is deployed to benefit your specific and unique financial needs. We hold various professional designations, as listed below, and are licensed for a variety of investment, insurance and mortgage products.
We're extremely dedicated to developing lasting relationships with all our clients and take pride in helping you ascertain your financial goals and participate in the management of your finances.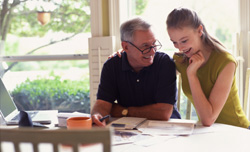 One of the benefits of working with us is our ability to provide clear, easy to understand explanations of complicated financial concepts, products, strategies and services. The personalized program we provide is a roadmap that can help lead to a more secure financial future for you, your family and your business.
We're looking forward to using our experience and knowledge to help you pursue your financial goals.
Investment Licensures held:
General Securities Registered Representative
Uniform Securities Agent State Law
Uniform Investment Advisors Law
Accredited Investment Fiduciary
Life Insurance (member National Insurance Producer Registry)
Health Insurance
Disability Insurance
Long Term Care Insurance
Mortgage Broker Licenses
Associate Licensures:
Certified Public Accountant
Juris Doctorate
Masters Business Administration
For more information on license types and additional education history please go to the associates screen.