Guaranteed Returns
Guarantees & Lifetime Income
If you would like income for life or guaranteed returns on your investments then an annuity may be for you.
Recently receiving a lot of attention, annuities are more common than most people realize. Used by individuals to meet retirement and other needs, businesses for retirement plans, lawyers for settlements, State Governments to pay lottery winners and believe it or not most pension plans also use a form of annuity.
Annuities have been in the market in their present form for decades, however the first usage in the United States was documented in 1720 when the Presbyterian Church used an annuity to guarantee retirement for aging ministers and their families. The concept of paying out a stream of income (annua) is even older and actually dates back to Ancient Roman times.
What is an annuity? An annuitiy is a contract between you and an insurance company that is designed to meet retirement and other long range goals but may also be utilized to create an immediate or lifetime stream of income. They are designed to accept a lump sum or series of payments from the investor (you) in return for these payments the insurer agrees to make periodic payments to you beginning immediately or at some future date.
The Benefits
Tax deferrred growth of investment earnings
Guaranteed payout options that can last for a defined period or indefinite period.

Typical defined periods equal 10, 15 or 20 years
Typical indefinite period could be your lifetime or the lifetime of you and your spouse

You choose the payment options and benefits that you prefer
Guaranteed Death Benefit options that will pay your beneficiaries. Generally, your beneficiary will receive the greater of :

The current Market Value of your Annuity
The sum of all payments (less any withdrawals) made to the annuity
Types of Annuities
There are essentially two major types of annuities, fixed annuities and variable annuities. These two types vary mainly according to how your contributions are allocated and when income payments begin.
Fixed
Fixed annuities are a contract by which your principal is invested in the insurance company's general account.
The insurance company guarantees you a preset rate of interest during the time that your account is maintained with them and growing. Interest rates normally reset every one to three years.
The company also guarantees the return of principal you paid into your annuity
Ultimately the income is paid out in equal installments that can last a definite or indefinite period of time as described above
Variable
Variable annuities are contracts whereby you put your principal into a selection of professionally managed investment funds called sub-accounts.
The insurance company does not guarantee a minimum rate of return and the value of your annuity may rise and fall according to the market conditions and performance of your underlying investment options
Ultimately income paid out varies and is based upon the performance of the underlying investment options. (Riders can effect this)
Variable annuities do provide the benefits of diversification, tax-free portfolio transfers and investment changes. They may also offer optimal long term inflation protection and are sheltered from the insurance company's creditors.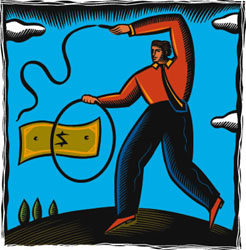 Riders
Most variable annuity companies offer several optional features known as riders that make purchasing them even more attractive. In addition to the aforementioned death benefits there are also living benefits which are designed to be used by the policy holder, prior to death and which provide certain guarantees such as:
Bonus purchase credits
Accumulation guarantees in down markets
Guarantted income in retirement
Ability to take a free withdrawal of a percentage or dollar amount of the account
Ability to lock in sub-account portfolio gains in order to increase the guaranteed withdrawal amount
If you like the idea of tax deferred growth, guaranteed income and loss protection for yourself or your beneficiaries then an annuity may be the right choice for you, give us a call and we can evaluate which annuity is right for you.
*Although it is possible to have guaranteed income for life with a fixed annuity, there is no assurance that this income will keep up with inflation. There is a surrender charge imposed generally during the first 5 to 7 years or during the rate guarantee period. The guarantee of the annuity is backed by the claims paying ability of the issuing insurance company. If you are purchasing an annuity to fund any tax-qualified retirement plan (IRA), you should be aware that this tax-deferral feature is available with any investment vehicle and is not unique to an annuity. Carefully consider the features and benefits of the annuity before making the decision to purchase. All investing involves risk, including the possible loss of principal. There is no assurance that any investment strategy will be successful.
There is a surrender charge imposed generally during the first 5 to 7 years that you own the contract. Withdrawals prior to age 59 ½ may result in a 10% IRS tax penalty, in addition to any ordinary income tax. The guarantee of the annuity is backed by the financial strength of the underlying insurance company. Investment sub-account values will fluctuate with changes in market conditions.
Investors should consider the investment objectives, risks and charges and expenses of the variable annuity carefully before investing. An investment in a variable annuity involves investment risk, including possible loss of principal. Variable annuities are designed for long-term investing. The contract, when redeemed, may be worth more or less than the total amount invested. Variable annuities are subject to insurance-related charges including mortality and expense charges, administrative fees, and the expenses associated with the underlying sub-accounts. The prospectus contains this and other information about the variable annuity. Contact us to obtain a prospectus, which should be read carefully before investing or sending money.